The Best Water Slide Rentals In Miami
Click below to browse the best selection of water slides in Miami.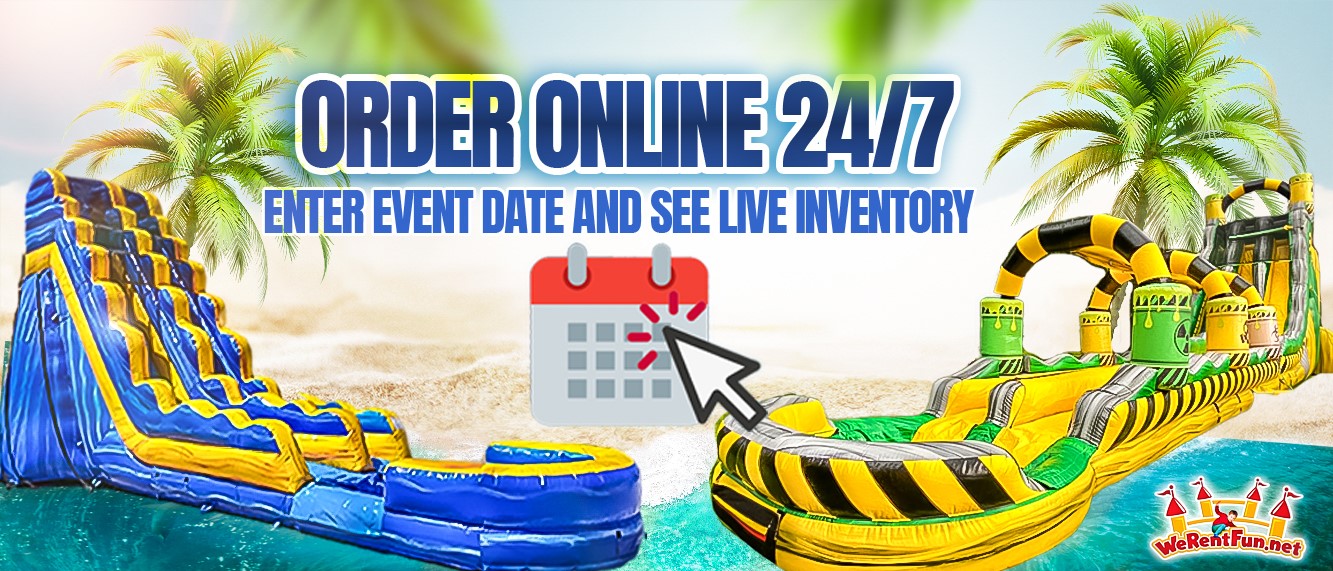 Beat the heat with the coolest inflatable rentals in Miami!

Bounce House Rental in Miami offers the best water slide rentals in Miami. We got you covered for inflatable slides in Southern Florida. These fascinating slides are perfect for your upcoming event, as they promise to be full of fun for everyone. They are perfect for a firm event, church event, or even any birthday party and a school field day. Our services will offer you and your guests an unforgettable experience. You will enjoy safe and sanitized water slides. We have a variety of commercial-grade inflatable that meets or exceeds all ASTM standards for safety. Are you ready to catch some fun in Miami? Use the button below for reservation!
Bounce House Rental in Miami is at Miami, Fl while we serve anywhere around Miami,FL - David,FL - Hollywood,FL - Homestead,FL - Pembroke Pines,FL - Palmetto Bay,FL - Coral Gables,FL and Southwest Ranches,FL. We ensure that our customers get sound rental equipment. Bounce House Rental in Miami is a family business whose major aim is to offer excellent customer service and rental quality possible. We proudly offer a Chick-fil-A kind of service. Customers' reviews on Google or Yelp say it all. All you need to book reservations is to click the online Button at the very top right of each page. For inquiries, questions or concerns please reach out to us via 305-985-0505 or just click HERE. Call us now and let us know your needs. We will take it up from there! In South Florida, WeRentFun offers the cleanest and friendliest party rental equipment for Miami,FL - David,FL - Hollywood,FL - Homestead,FL - Pembroke Pines,FL - Palmetto Bay,FL - Coral Gables,FL as well as Southwest Ranches,FL #We-Bring-The-Fun
We Rent Fun is good at providing Water Slide Rentals for a water party. Your party guests will feel cool on a hot summer day in Florida. The heat from the sun calls for the addition of a little water to the party. When you go for our amazing water slides, it is certain that your guests won't have to remove their shoes off fast enough. The water slides will immediately transform your backyard into a tropical oasis ready for everyone to catch fun.
For more options for water inflatables, check out our Combo Bouncer Rentals!
We Rent Fun is a company run by a Christian family, which offers water slide rentals. As a Party Rental Company, we are always working to do more than our customers expect. Our expert staff knows that your event is important; hence they work to maintain the high standards that we have for our growing business. We desire to become the one stop shop for everything you need regarding party and event rentals. We offer amazing discounts to fire and first responders, active military, and police. Please remind us about this while booking your reservation. Talk to us today!
Water slide rentals Miami
Families enjoy and have fun with water slide rentals in Miami. Our customers use them for different parties such as a simple backyard birthday party as well as a wet community event. We are available to provide what will cool off you and your guests in this Miami heat. You just need to choose and we will set it up. Our team of experts will show up with the rentals to put things in place and guide you. We will also pull it down after your event. Simply order up your choice, sit back, and enjoy the rest. All your concerns will be addressed. Expect awesome and clean rentals from us.
Rent a Water Slide
We proudly offer the best water slide rentals in Miami. Our offerings come at the best price. Don't forget to ask questions if you find someone offering a rental for $50. Ask about proper insurance and inspection from such individuals. Ask if the state has inspected such rental. However, at such a price, it is unlikely that it has been inspected. The state has inspected all our rentals and we clean them up when used towards ensuring that they meet our cleaning standards. We are an expert party rental firm, so there is nothing to fear when you approach us. We provide water slide rentals Miami, inflatable rentals Miami, yard games, obstacle courses, foam machine rentals, concession rentals, and more.
Move lines faster with double lanes
One of the features of our water slide rentals in Miami is a double slide. This feature keeps the lines moving along. Let us know the dates and we will make things easy for you. A hose from a water source needs to be connected to each rental. This is because water is needed for proper running. There should be sufficient water pressure for running multiples. There are blower fans in them for inflation; hence, there is a need to have an extension cord connected to electricity. Please note that they consume little power.
In case you lack sufficient heavy-duty hoses for your event, we can provide it for rent. We offer generators for rent if power is insufficient or if there is no power where the event will hold. You can use this to power up the rentals anywhere. Nevertheless, water is required for the proper functioning of water slide rentals in Miami.
If there is no water, our obstacle course rental or other party rental options are available. There are different shapes and sizes for inflatable rentals in Miami. We can handle any type of event, big or small, complete carnivals or a small party.
Check the dimensions of the slide
Watch out for dimensions when you want to rent a slide. We have huge water slide rentals in Miami and some weigh several 100 pounds. This is critical when renting. We install them on concrete, pavement, and a grassy area. The only exception is an area filled with gravel as it rubs holes into the inflatable. However, this must be done on level ground. We prefer a grassy area due to kids' safety; safety is always our priority.
You can't go wrong with our water slide rental in Miami. A rental firm for your large fundraiser should be trustworthy. Rental firms are different and the smaller operations find it difficult to manage time, show up and set up on time. This is critical when the content of our trucks is central to your fundraiser. We know that getting our rentals to your location and setting it up is important to you. Hence, we are able to set up a few hours before the event. This gives us the opportunity for proper set up and settling any issues with any of the rentals or space.
Check out our other party rentals in Miami
We started renting water slide rentals in Miami a long time ago. We have been able to set up several carnivals as well. Everything you will require to start off your fundraiser and carnival is not beyond our expertise. We are here to assist you if it is your first time and it seems somewhat overwhelming. For instance, we are aware of the renowned ones and those that will feature faster lines. This is critical when a large crowd is involved. This means you need to consider the expected crowd when searching for water slide rentals in Miami. For the best of entertainment, consider water slides Miami capable of offering that size crowd.
Enjoy a wet and cool offer with our water slide rentals in Miami today. We promise to offer you the most amazing water slide rentals Miami experience possible. Let us know your questions or concerns regarding the party rental business and we will answer you.
Water slide rentals Miami suit every kind of occasion. We have learned the art of bringing fun to communities, schools, corporate events, as well as fundraisers. We also have other options apart from water slide rentals Miami – bubble makers, coolers, balls for basketball, staff tee shirts, lights, and more. There are equipment for a backyard wedding and carnival items. See our wide range of party rentals including our water slide rentals in Miami.